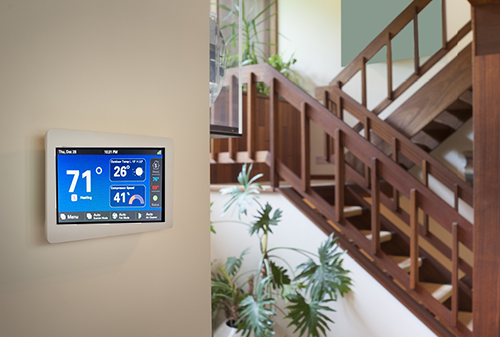 We love to connect your home and make it smarter!  With a Wi-fi enabled thermostat, (ie. Nexia) you can control the temperature of your home remotely through your smartphone or computer. If you want to turn your home into a smart home, a connected thermostat is a great way to start. You can control lights, locks and your indoor temperature all from one system.
EXPLORE YOUR OPTIONS
Which thermostat is right for you?
You get to choose the connected control or the traditional thermostat that's right for your home. If you want to control your thermostat over Wi-fi, a connected control might be right for you. If you have a regular routine, a traditional programmable thermostat could be a great fit for your lifestyle. Programmable thermostats can be set for multiple days at a time, so you don't have to worry about adjusting the temperature each morning and night.  Call us, we love this part of our job!